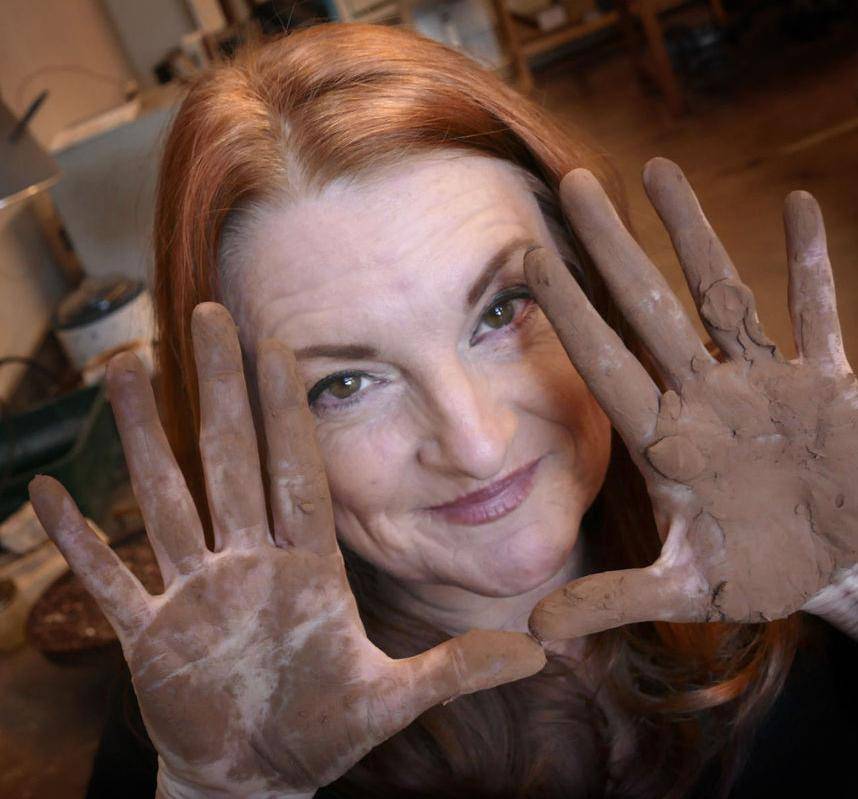 Artist, Instructor, Supplier, Manufacturer
From an early age, Carrie exhibited an interest in the creative arts and garnered recognition in college, winning a state award in graphic design. In 2005, Carrie began creating beaded necklaces, bracelets and earrings and soon after established her own business, Divine Ornaments. After discovering metal clay in 2008, she immediately knew this medium was the right fit for her.
After many years working in metal clay, Carrie began Clay Revolution and started manufacturing Five Star Metal Clays. Carrie continues to bring innovative products to the market and strives for a diverse selection of materials.
Known for her approachable and dynamic teaching style, Carrie maintains an enjoyable atmosphere where students feel free to express their own gifts and talents while encouraging individuals' creativity, curiosity and appreciation for art; Carrie's dedication to teaching is obvious to her students.
Carrie, who gains inspiration for her creations from nature and animals, currently serves as a Contributing Artist for Metal Clay Today, a course developer for Camp PMC and is on the advisory panel of AMCAW. Carrie is committed to her own professional development and continuously seeks out opportunities to improve her skills so that she can best serve her class.
Camp PMC Principal Instructor, Rio Grande PMC Certification, Clay Revolution Certification
---
Brenda Branson grew up in eastern North Carolina. She began making and selling various styles of handmade jewelry which have evolved into designs that are more diverse, incorporating her own components from a variety of metals and techniques.  
Brenda has been working with metal clay since 2004. Her inspiration is driven by nature, and her favorite designs come from the intricate patterns and textures in shells, mollusks, leaves, flowers, tree bark, etc. found along the shore, riverbanks, or roadside.  
Brenda often incorporates fine gemstones and 100% compressed cotton pearls, with the hand fabricated bronze, copper, or fine silver pendants and findings. Her work has been featured in publications, advertisements, and on product packaging.   MSB Designs' jewelry is sold in local galleries and online.  
Brenda is certified in PMC Metal Clay, Prometheus Clays, and Clay Revolution. She has traveled from Florida to Arizona to study with some of the most renown metal clay artists in the US, UK and Russia. Brenda has shared her knowledge and skills through classes and workshops around the country.
Renowned Art fairs from Dana Point, CA to Edinburgh, Scotland offer artist Laura Moore's exceptional line of jewelry. Long appreciated for their evocation of a distinctive organic beauty and clean and simple lines, these unique pieces are now available to you at BillysaBadKitty.com.
Laura's exploration of form, structure, character and life further her pursuit of capturing "The Art of Nature".
Employing Japanese Precious Metal Clay, PMC, and objects from nature, the artist creates a one-of-a-kind form that shapes fine-grade silver into wearable art. Laura finishes using a variety of intricate surface treatments to bring out the texture and detail of every piece. They are enhanced with delicate silver chains and real gem stones making each piece original and uniquely charming.
We consider ourselves a team: teaching, working, farming, and living in Southwest Virginia, as we aspire to live our lives as an art couple. We create our flame-worked, fused, and silver pieces, in part of the original family farm, while maintaining our horses, donkeys, mules, and vegetable gardens. Our favorite place to work, and our creative place, is our Shedio.
Ed has been working in glass for over three decades, starting with an art major at Oregon State University in the early 1970s, and continuing to a four year glass program at Cal State San Bernardino.
Martha studied design in the early 80s at VCU, and began concentrating in jewelry in 1992, Precious Metal Clay in 2000, and now treats glass as jewelry in tandem with metal clay. She partners with Ed in writing magazine articles. She continues to be quietly at the forefront of exploration with base metal clays. Between the two of us, we have over 40 years of experience with glass, and over 20 with metal clay. Visit our Teaching Schedule to see when we're near you! Or, come visit us for a low-pressure workshop tailored to your needs
I have been making jewelry and teaching jewelry making for over 35 years. As a high school art teacher, I experimented with many different media including weaving, fabric design, photography, jewelry design and crafts. For the last 15 years I have dedicated most of my time to making jewelry. I am a certified Senior Instructor for Art Clay World and teach classes from my home studio and other teaching studios.

Exhibitions 2013 – Structure + Rhythm, Z Folio Gallery 2014 – Made With Love, Many Hands Gallery Affiliations Monterey Bay Metal Arts Guild Metal Arts Guild San Francisco South Bay Polymer Clay Guild
Nzingah Oniwosan is an award winning visual artist, jewelry designer, classically trained pianist, published poet, and up and coming African and Haitian folklore dancer. She has been a full time teaching artist for the past 10 years.

During this time, Nzingah has the fortunate opportunity to work with organizations like VSA Arts FL, Center Creative Education, Coral Springs Museum, Miami Children's Museum, as well as Young Audiences in Baltimore, to name a few. Her work has been noted in periodicals like the Sun Sentinel (2006/2007), Essence Magazine (2014) and Art & Culture Magazine (Fall 2006).

Nzingah's most recent accolades include: a grant in 2010 to exhibit the "Sankofa Experience" and in 2009 to exhibit "Un-murdered,"being named 2008 artist of the year by the Links Incorporated, and placing first in several juried exhibits.

She is currently an artist-in-resident for Broward County School Board, as well as, Old Dillard Museum. Nzingah's a certified level 1 Art Clay instructor and will be a senior Instructor Winter 2014. Outside of being a creative, Nzingah is a raw foods chef and an avid Bikram yoga practitioner. .
I have loved art since I was a child. Even if I didn't understand what it meant, I enjoyed the way it made me feel- how it made me feel a myriad of emotions and think all kinds of thoughts. My grandparents encouraged me to be a 'maker'- to tinker and to create.
I am as fascinated by the processes as I am the finished works, so I studied art history in college. This introduced me to so many styles and influences. I weave bits and pieces of the visual as well as the philosophical influences of artists and movements that I feel connected to. I subscribe to the idea that things should be made to last as well- I despise the disposable nature of our society. I take great care in the craftsmanship of my work and the quality of my materials.
I continue the 'family business' of working in the technical world by day and weaving maker magic by night (and on the weekends). My goal, not just in my art, but also in my interactions with people, is to make life more beautiful. For me, the process of making a piece is just as valuable as the finished piece and I am passionate about helping others connect to their inner maker. Our wellbeing as people is improved by the act of making- our lives are made richer and the world around us becomes more connected.
Ultimately, this is how I change the world and make it a better place- one piece of art at a time, one story, one connection
Tanisha Schoolfield has been a jewelry artist for over 15 years. Her specialties include beading, beadweaving, bead embroidery and wire wrapping. Tanisha is experienced in polymer clay, precious metal clay and Prometheus copper and bronze clays.

Tanisha currently serves as a Kids Camp Director and Educator at Ain't Miss Bead Haven in Mooresville, North Carolina.


Cheryl Strait learned her skills from a myriad of people and places, working with jewelers from across the country, including The Baum school of Art in Allentown, PA, Cleveland State University, Suburban Fine Art Center, Illinois and V rock shop in Canton, OH. She lives in Alliance, OH where she has conducted business as a metalsmith and silversmith and continues to design and fabricate her work in her private studio, for over 20 years. Instruction includes: Artiscape Cheryl Strait's Online classroom Bead and Button Art is You Art and Soul Beadfest Philadelphia, PA Beadfest Wire Beadfest Wilmington, DE Clonlara Private School Ann Arbor, MI Altercations Ann Arbor, MI Akron University Alliance City Schools Publications Belle Armoire Jewelry Spring 2007 to 2017 Step by Step Wire Jewelry Magazine December 2011 GreenCrafts Magazine August 2011 Beadstyle Magazine Fall/Winter 2010 Art Quilting Studio Magazine 2009 Art Doll Quarterly Autumn Issue 2008 "Best Of" Jewelry Artists and Artisans 2006 " Epitome Magazine 2004 to 2005 Alliance Review Newspaper article 2005 Artist Trading Cards an Anthology of ATC's 2004 Canton Repository Newspaper review of 2nd April Galerie Grand Opening 2003 Artitude Zine "ANGEL PIN" 2003

Her work can also be found in selected galleries in Ohio
Patrice began her jewelry making career under the watchful eyes of Silversmith Pepe Fernandez in Elora Ontario Canada. It quickly became evident that texture was what motivated her creativity. The quest to incorporate other kinds of textures eventually led her to etching in copper, silver and bronze.

When metal clays joined the market, Patrice embraced this fabulous material, and hasn't looked back. Her signature pendants are layers of textured metals, arranged to be completely reversible.

Upon retiring from 30 years of teaching Art and Science to grade 7 and 8 students, she purchased a studio/teaching space perfect for workshops, classes and retreats.

Patrice has such talent and enthusiasm for both creating and for teaching. It is wonderful to find someone who is both inspirational and so willing to pass on all she has learned. I thoroughly enjoyed her class on metal clay and I can't wait to take the next class. L. Howell Milton Ontario Canada

My experience with Patrice was one I will never forget. The time spent at her tranquil studio was both educational and fun and I am looking forward to taking another bronze clay session with her in the near future. K Ross. Niagara Falls Ontario Canada.
Patricia Accorinti - San Jose
Laura Moore - Newport Beach
Nzingah Oniwosan - Ft Lauderdale
Carrie Story - Sandy Ridge

Tanisha Schoolfield - Moorseville
Cheryl Strait - East Alliance
Ed and Martha Biggar - Draper